---
---
What I'm working on
---
Latest blog posts
---
You (or someone you know) might find my book helpful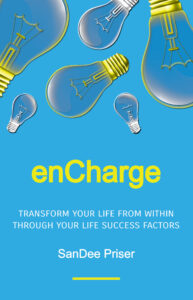 enCharge: Transform Your Life From Within Through Your Life Success Factors was released in 2020. Energy takes the path of least resistance, so it must be channeled to make the most of it. Similarly, by identifying your life success factors, you can identify, seize and create opportunities that will lead to a more fulfilling life.
All proceeds will be donated to my alma maters to help other students have the benefit of scholarships that I received along the way.
---
Bite sized thoughts
Sometimes we need a quick breath to slow down and think. The Instagram feed below features my own photos with a brief thought (and sometimes quotes from others) along with some comments that might give you something to think about. You can also check out the short SIP of the Day series on a separate page.