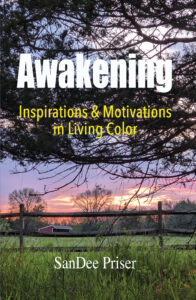 Each day is an opportunity to grow, but sometimes it's hard to have the courage or energy to move out of our comfort zone and take action. In Awakening: Inspirations & Motivations in Living Color, I've organized a collection of my photographs and thoughts to motivate and inspire you.
The book is divided into two areas. People covers the "why" for your growth, including family, friends, colleagues and community. Purpose and Process focuses on where you want to go and creating the goals and habits to get you there. You can read from start to finish or choose a hashtag from the index to find new perspective in a particular area.
Awakening is available in hardcover and digital versions from Amazon.
All proceeds I receive will benefit the enCharge Purpose in Action Scholarship Fund I created at the University of Wisconsin Law School. The scholarship assists law students with a demonstrated record of pursuing their purpose and that purpose will be furthered by a legal education.