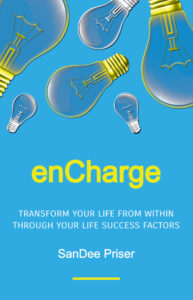 Why does everyone else seem happier? Do you wonder why you don't have a life that you love, even when you're checking off all of the right boxes?
Life is full of opportunities, but if we don't know how to choose the ones that will make us happy, we choose the wrong things and become frustrated and unhappy. What looks like success for one person isn't right for everyone. Identifying your unique life success factors allows you to seize and create opportunities that are aligned with a balance of the elements designed to consistently bring you lasting happiness and fulfillment.
In enCharge: Transform Your Life From Within Through Your Life Success Factors, I share my journey of exploration from tomboy on a farm to a successful career and satisfying life that were alternatively made possible by following my life success factors and moments of growth when loss of alignment frustrated achievement of my goals.
If you're ready to take charge of your energy and apply it to create an amazing life, enCharge will help you channel it to maximize your impact. It's available in digital and print format through major book platforms including Amazon, Barnes & Noble and Apple Books.
Download templates from enCharge
Share your life success factors